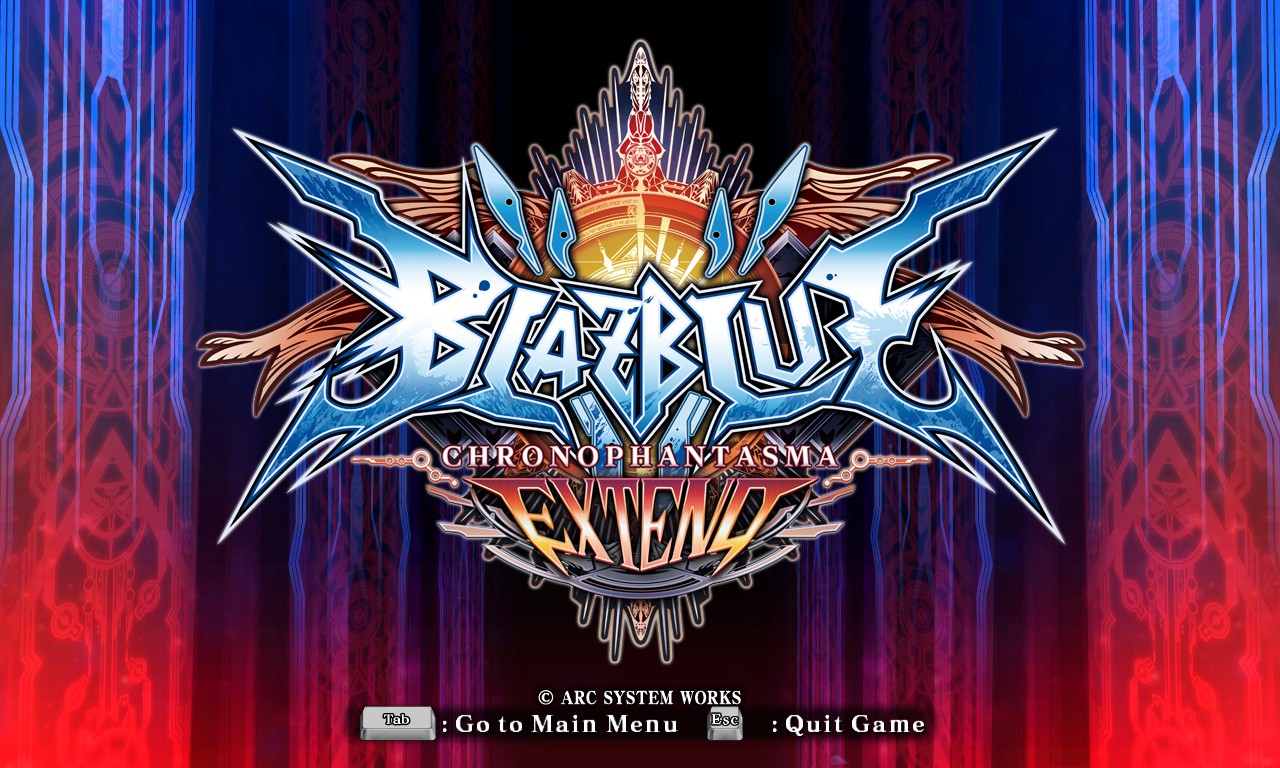 A fighting game and comic book in one!
BlazBlue: Chronophantasma Extend is a fun game where gaming meets an active comic / story.  As you start the game it gives you options as to what to do.  You can start the story, as seen below, or you can fight, do tutorials, and so forth.  Unlike any other fighting games I've seen up to now, this game focuses as much on story as it does on fighting.  Unlike games like Mortal Kombat or Tekken, this game has more than just beat-um-up side scrolling fighting.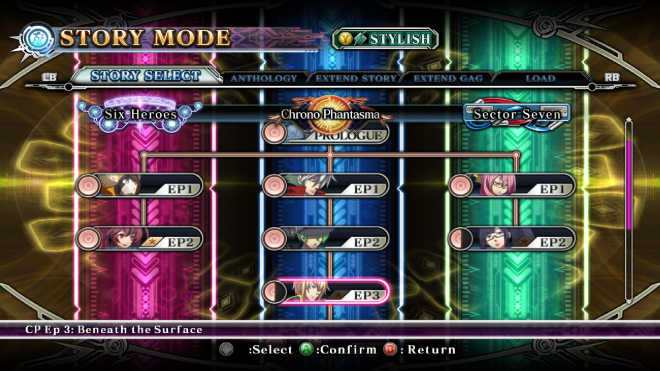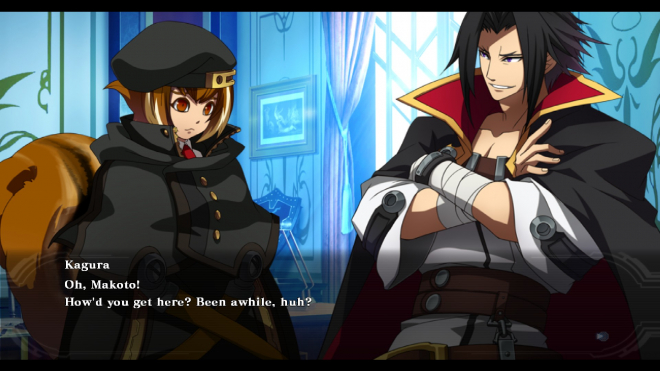 The stories focus on different characters, almost all of which are different characters you can fight with.  They show who they are, where they come from, their different personalities, skills, and relationships.  The story does jump from character and scene to other characters and scenes quite often, so sometimes you may not see characters for a while once the story progresses.  There are certain prompts where you can select what you want the character to do, and the story will progress with that storyline.  Going back, you can select the other options to see what other storylines are available.  It adds more re-playability as you see what happens with other selections.
There are certain points where you will see cinematics.  The animation and artistry is very well done.  The voice acting is done and the art is smooth, which makes it enjoyable to watch.  As you watch any videos / cutscenes / cinematics it logs them so you can go back and watch them again later.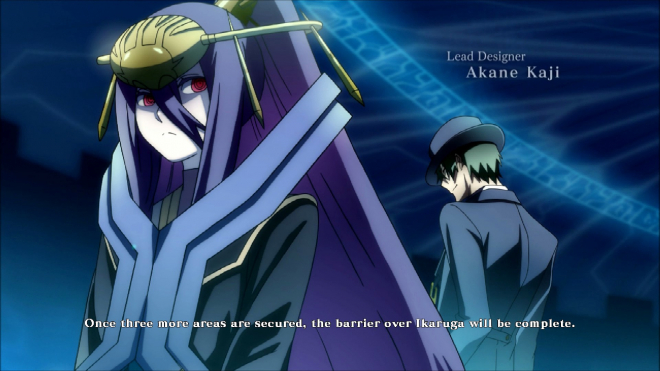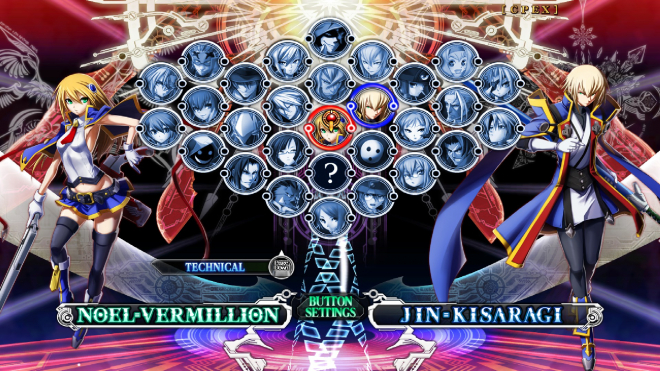 There are a variety of characters to choose from as you play.  There is an arcade mode where you can go through a short story for each fighter.  You can select the character and from a few color variants, which changes the hair, skin, cloths colors, and so forth.  Each character has their own unique fighting style, so it takes time to even learn, much less master, all of the characters.  It's interesting to see how each character plays with their different abilities, combos, and powers.
There are other play styles like Abyss mode, where you continue to fight other challengers and earn points you can use to buy upgrades.  There are tutorial modes, challenge modes, additional story modes, a library, galleries to re see images and videos and voice lines.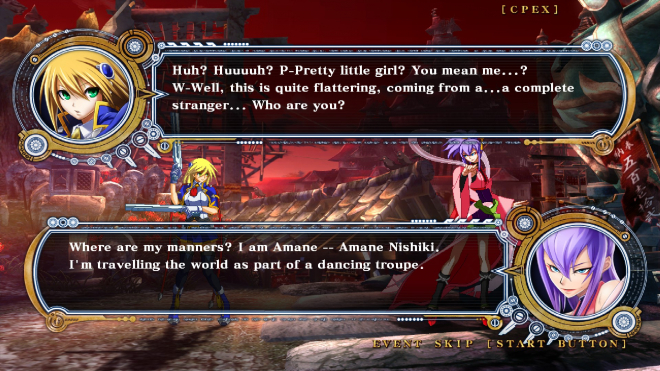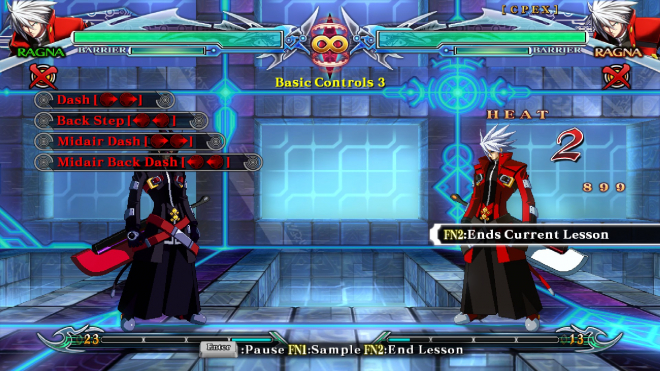 The tutorials and challenge modes are great ways to learn how to play the game with each character.  Certain characters are good for button mashing, for combo-ing with simple options.  Other characters are more difficult / tricky to use with more complicated combos. Different characters are great for different play styles, so play until you find someone you like.  It's always worth trying new characters too, just in case you find a new favorite.
As mentioned above, fighting is one of the main parts of the game.  Even in the story modes you will still find yourself fighting using characters from the story.  I figure that different story paths will occur depending on whether you win or lose, but I have yet to lose a fight on the story mode.  Fighting is fun, but I end up being more of a button masher.  Learning combos is difficult but definitely worth it if you're planning on playing long term, or if you like fighting games.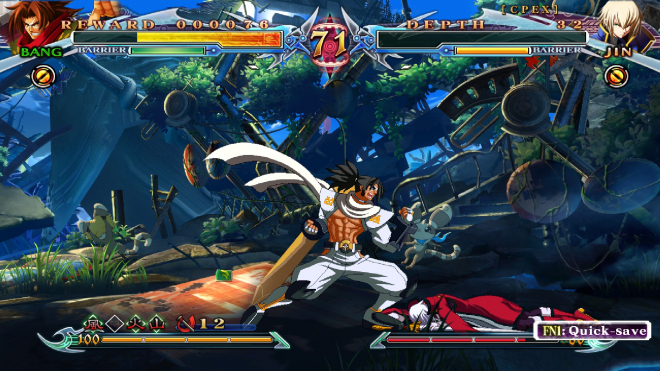 This game is quite a fun game as it offers quite a lot of options.  If you want more of a serious story you can play the main story mode, but if you want more of a silly story there's another set of stories to read.  The mood can shift from serious to silly and rambunctious at the drop of a hat, depending on which characters fall into the story.  Or you can fight to your hearts content.  Fighting different opponents is harder or easier depending on who you are playing as.
BlazBlue is a fun game to play, even if fighting games aren't exactly your style.  Pick it up if you're curious, especially if it's on sale.  Whether you're a long time fan or new to the genre this game is quite enjoyable and worth the time and money.