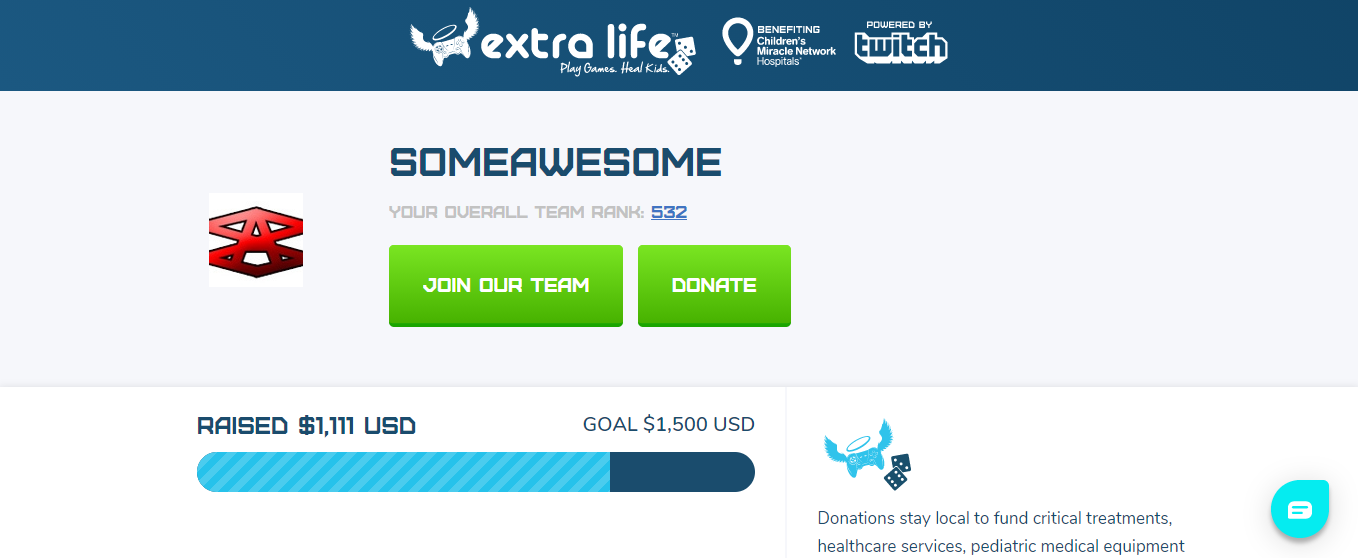 Help kids and get games
Join us this year as we participate in Extra Life — a 24 hour gaming event where we raise money for children's hospitals around the United States. We will be streaming to our Twitch channel for the entirety of the event, and will also be hosting a 24 hour Minecraft SkyBlock challenge on our Minecraft server, complete with awesome prizes.
Join our team or just donate to our team members, and you will be eligible for game giveaways throughout the day that we will be doing during the stream. Below is our streaming schedule for the event.
(Minecraft will have a 1 hour check-in at all times listed - All times are in Eastern Standard)
| | | |
| --- | --- | --- |
| | Minecraft | 9am, 12pm, 3pm, 6pm, 9pm, 12am, 3am, 6am, 9am |
| | Raft | 10am - 12pm |
| | Cuphead | 1pm - 3pm |
| | Overcooked | 4pm - 6pm |
| | Rocket League | 7pm - 9pm |
| | Among Us | 10pm - Midnight |
| | Phasmophobia | 1am - 3am |
| | Space Channel 5 | 4am - 6am |
| | ARK: Genesis | 7am - 9am |