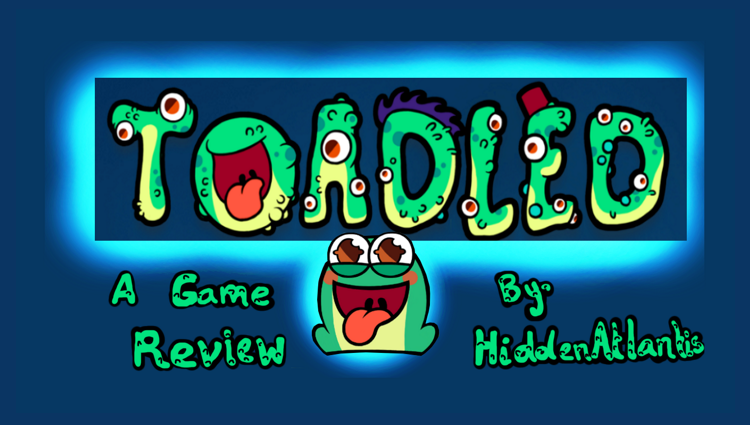 Ever wanted to eat bugs, puppies, skyscrapers, and aliens? Now you can in this cute arcade game, "Toadled"!
Toadled is a single player arcade style game that is fun to play for anyone! If the art style isn't enough to draw you in, then the music will keep you bouncing in your seat as you munch on anything that comes within reach of your toad-tongue. Not long after starting the game, you will find that you can't wait to beat your own high score and unlock achievements.
 Sometimes all we need is a simple game with a slight challenge to it to keep our brains engaged but not overworked. And as a really nice bonus, it helps when the game isn't memory/graphic hungry. "Toadled" is this game. After waiting a minute or two for it to download, you are able to jump straight into the game. No cinematics to greet you, just the Main Menu and cheerful music (that may remind you a small bit of Stardew Valley) and an adorable grinning toad.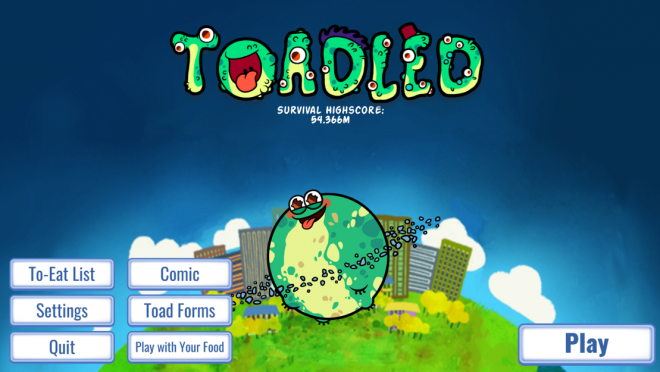 The Main Menu has basic choices, and is more rewarding to look through once you have progressed into the game more.
-"To-Eat List" is a list of the game's achievements.
-"Comic" is the story that you will have to unlock after reaching certain milestones during the game.
-"Toad Forms" Your toad has 10 phases they will grow into as you eat, grow, and progress to the next levels. This option shows which ones you have achieved thus far, but doesn't spoil the latter phases.
-"Play with Your Food" shows you that there are 43 different food types your toad will eat during his life, but they remain as silhouettes until you come across them in-game.
"Settings" has a few repeat items of the Main Menu, and it lets you turn on/off the SFX and Music.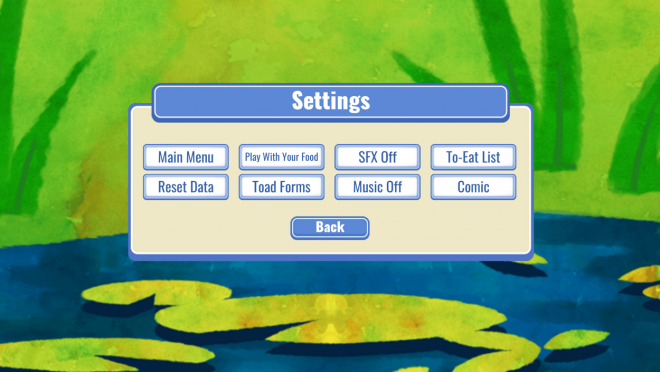 If you dive into the game with little research, a surprise is in store for you when you reach new levels. The food your toad eats begins to change and the toad's phases start taking on some hilarious forms.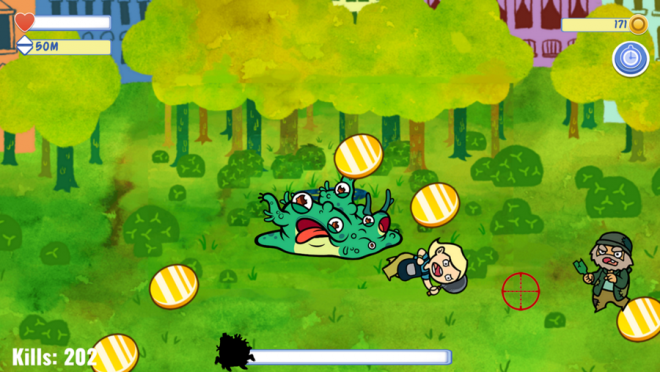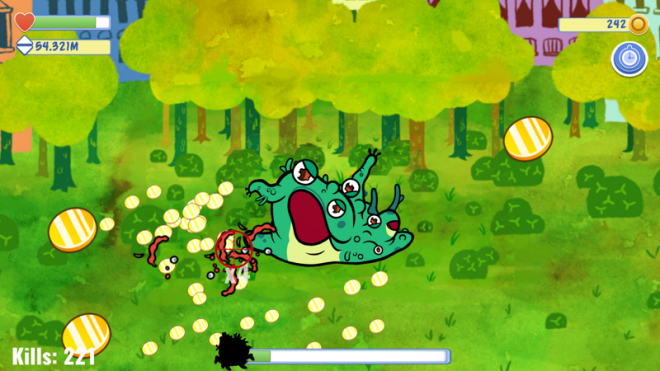 Pressing 'Shift' while playing will bring up your 'Upgrade' menu. This is where you can pick and choose where you want to spend your coins to help beef up your toad. And pressing 'Spacebar' will slow time down, to give you a better chance at catching each piece of food.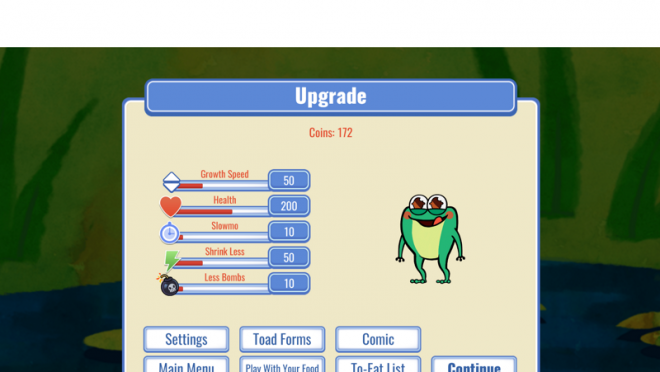 *Pro Tip: Be ready for some insanity the closer you get to Phase 10…also…don't look at the 'slow time' option as a cop-out on that last level...ahem*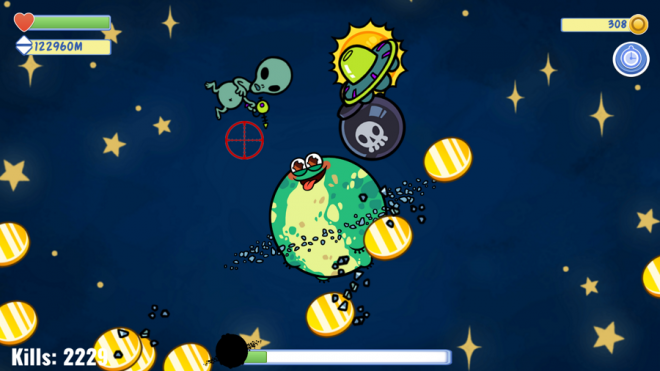 This game was able to wrap beauty, simplicity, challenge, and fun all into one. 'Toadled' will leave you laughing and *slightly* raging as you get closer to the end of the game. But not to worry, it comes highly recommended that everyone try this extremely non-expensive game, because you will not regret the big grin you have on your face as you experience 'Toadled'.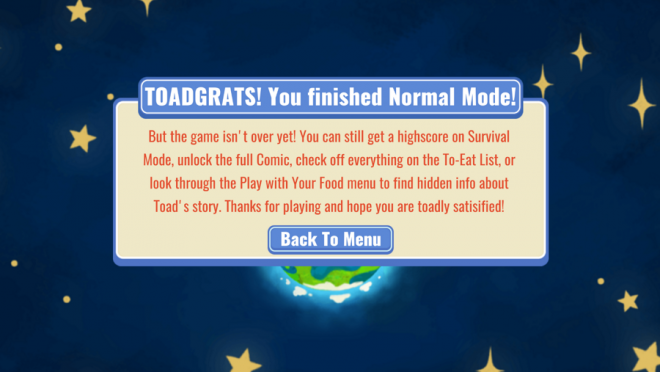 AUTHOR INFORMATION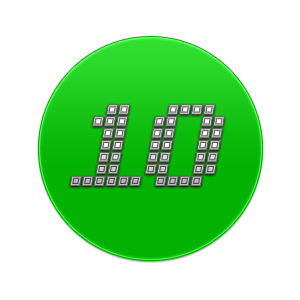 PROS / CONS
Quick Game-->(About 30-40min to "beat" the game)

User Friendly -->(Consistent gameplay and only a few controls)

Cheap!-->(It's .99)

Easy on the Hardware-->(a potato could run it)
I want more of this game!

I can't think of anything negative to say about this game!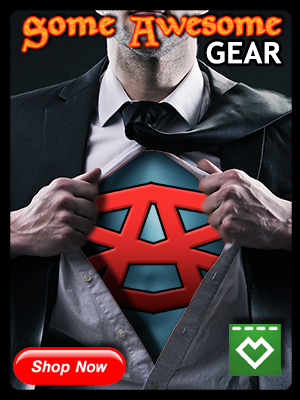 KEYS AVAILABLE: NONE